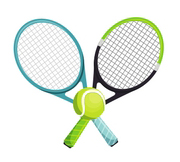 The first ever NGFS Tennis Tournament will be on Friday, April 20. Open to parents, alumni, grandparents, and friends of the School. Food and drinks will be provided.

Cardinal Swim and Tennis Club
$30/person
Check-in at 5 p.m.
Mixed doubles. Flights will be made based on the team's combo rating and then flighted.