New Garden Friends School graduates make their mark wherever they go. Read about some of our fantastic alumni and what they gained from their NGFS experience.
Gracie Rodriguez, Class of 2017
Interview by Virginia Ignelzi, Class of 2018
Where are you right now?
I am a BFA musical theatre major at Catawba College, and I have just finished my first year. Throughout the year, I have been very active within my school's theatre department and beyond. I competed in the National Association of Teachers of Singing competition where I placed third in my category and advanced to regionals. I was also grateful to have been cast in two shows: Conference of the Birds, in which I won the stage movement award for my performance and Cole Porter's hit musical, Anything Goes. I was also a part of a lab/stage reading for the world premier show, Sisters of the Stars, written by Bradley Stephenson. In June, I will be attending the Torggler Summer Vocal Institute, a prestigious two-week vocal program in Virginia, where I will be working with Broadway professionals and will continue studying musical theatre and classical songs.
Where do you see yourself in five years? Ten years?
In five years, I see myself being a college graduate, moving to New York, and [hopefully] booking a Broadway national tour, if not a Broadway show. In ten years, I'd like to have continued my musical theatre career on Broadway, in tours, giving master classes, etc.
How have you stayed in contact with the NGFS family?
I have remained in contact with the NGFS community mainly through social media.
How has NGFS prepared you for what you're doing now?
Academically, I think that NGFS has prepared me greatly for the college workload, as well as leadership skills. In addition, the theatre department definitely prepared me as it taught me what it means to be a professional, time management skills, and what it means to work as an ensemble.
What do you miss most about New Garden?
I think that I just miss the people the most.
What is the most relevant or meaningful lesson you learned here?
The most meaningful lesson that I've learned while at NGFS is to walk through life with an open mind and heart. NGFS really embraces diversity and has a strong sense of community, which is what I think sets it apart from other schools.

Sarah Rucker, Class of 2012
Interview by Maya Sowells, Class of 2017
What are you doing now? Where has your life taken you?
Right now I am working for an incredible non-profit in Antigua, Guatemala, called the Integral Heart Family. The organization works with youth from pueblos surrounding Antigua where poverty is the norm. We have a school that utilizes a revolutionary "integral" curriculum (based in non-dualist, experiential spirituality, and critical thinking) and provides the families of its students (currently there are 86 coming from various communities) bi-weekly nutrition packages, solar energy, as well as financial support for transportation, school and life supplies, and any desired supplemental education, including university costs (completely out of the norm for kids from this economic background and already six students are studying and doing well...amazing!).
I teach a critical thinking course that focuses on the causes and effects of poverty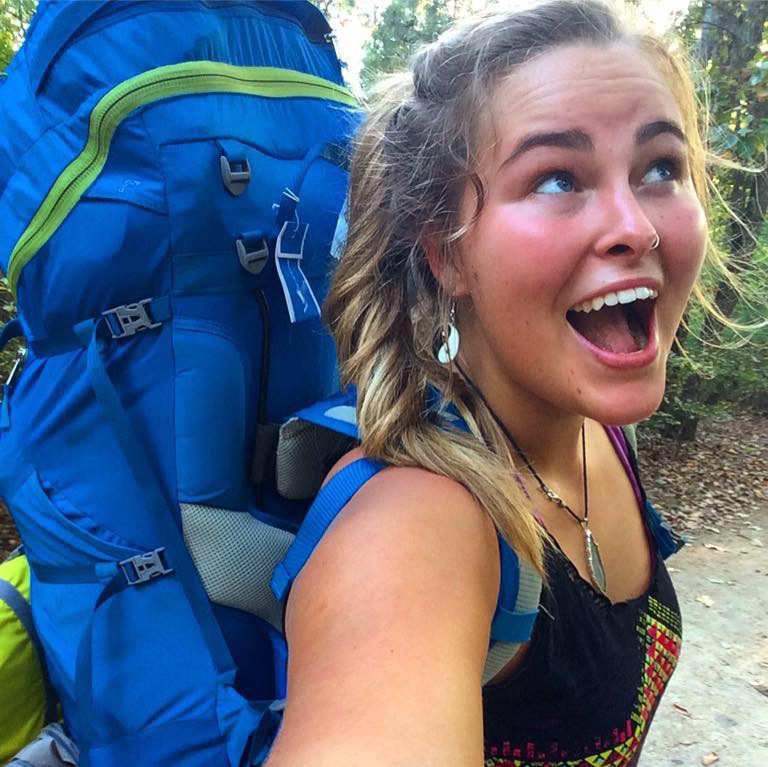 in Guatemala and how we can prepare to not just bring ourselves out of poverty, but also our communities and the future generations. I also teach a spirituality course that is focused on exploring meditation, mind/heartfulness and discussing what spirituality means, and I teach English, but even my English courses have an undercurrent aiming to access and express depth and consciousness. I love it! I also work with their social worker, learning how the family aspect works. I lead two weekly girl's circles (ages 6-16), designed to create an uplifting and open space to discuss how we would like to be treated as women and how cultural norms affect us, along with many other topics. I'm also currently volunteering for another incredible non-profit called Ser Niña which does girl's empowerment workshops all around Guatemala.
The ultimate goal of my time here is to learn the ins and outs of teaching and curriculum development, along with what is going on behind the scenes. Sometimes it's hard for me to believe that my dreams have manifested so beautifully and that a pathway seems to have arisen for them to maybe keep growing! I am so passionate about what I'm doing because I think education, specifically multi-generational, spiritually-based education is a key factor in ending cycles of poverty. With more voices empowered, there will better education and thus better circumstances for many people. Who knows, perhaps one day this movement will take off and give way to alter the socio-political-economic climate of developing countries and allow for their incredible stories and values to become heard and appreciated on the global frontier. Empowering the world's future leaders, especially young women...really excites me!
Before moving to Guatemala I was working at a yoga school in Oaxaca, Mexico, called Hridaya, and before that I was studying International Studies (specifically Globalization), Spanish, Political Science, and Leadership Studies at UNC Wilmington. I loved what I studied but ultimately realized in my final semester that what I was most passionate about, social change and justice, has perhaps much more to do with education and grassroots movements than international politics. I did two semesters abroad, one in Chile and one in Ecuador and had an amazing year in South America. I worked as a Spanish tutor, student ambassador, translator for an immigration law firm, served as a SGA senator, and volunteered with a non-profit helping connect immigrants to community resources while I lived in Wilmington.
Life since NGFS has been a crazy beautiful ride!!
How do you think your NGFS education has contributed to your success in life?
New Garden taught me how to think big, analytically and introspectively, and taught me that my thoughts were valuable. Because of this, I have been able to formulate dreams based on what I've come to discover really matters to me and have been equipped and ready to recognize and enter the crazy amount of doors that have opened to make dreams reality.
How has attending a friends school benefited or shaped the person you are today?|
Many of the foundations of how we perceive, think, act, and believe are formed when we are young. I cannot express how lucky I feel to have been in such a wisely conducted, loving, and empowering community throughout my formative years.
A community where even as a little kid, our voices mattered.
We worked through everything with group discussions, whether it be conflicts or deciding what to study and where to do our community service. From choosing our trees and rocks in Rainbow to choosing to study poverty as a history seminar at the Upper School, it was tangible my whole time there that my ideas were valued and that is the basis for believing in oneself. NGFS is a community where you see the teachers and administrators genuinely caring about each other, about you, and your families. Where you see the values of Quakerism (the SPICES-simplicity, peace, integrity, community, equality and stewardship...forever engrained in my mind!) explored and carried out day-to-day. The fact that now I'm 22 and still every time I come back to Greensboro I have a long list of people to visit from New Garden, even if many are retired, means the world to me. There, I developed lifelong mentors and a so many supportive relationships that are special to me. I would attest to there being endless benefits to being shaped by a friends school education!
If you had to choose your most memorable moment in your NGFS experience, what would it be?
Wow...there are 12 years of memories to choose from! Both 8th grade and 12th grade graduation, the craziest long list of school trips, and the days of being a big or little buddy are all shining times. But perhaps more than anything, it would have to be the closing circle for our trip to the Dominican Republic when I was in 11th grade. The poverty seminar I mentioned earlier evolved into the mission to go on this trip, designed to help us see and have a part in doing something about poverty. We spent hours upon hours fundraising and ultimately thanks to many members of the community, the mission came to life. We went with an organization called Orphanage Outreach (now Outreach 360) to the DR for the week of spring break. It was a very poignant time I think for all of us. We learned invaluable lessons and shared many incredible experiences. It confirmed for me my dream to keep exploring Latin America and to work towards helping shift cycles of poverty. On our last night, we sat on a rooftop under the stars and discussed our experiences and realizations. This sharing remains to be one of the most beautiful and inspiring moments of my life.
What lessons did New Garden instill in you that remains prominent with you today?
I feel the foundations of who I am are from New Garden. Perhaps open-mind/heartedness is what I notice playing a prominent role in my life. Also, the importance of community and equality are huge. I could even say the "lesson" of learning to love silence that started at the Meeting House is still quite prevalent with me today. And maybe most of all, my now inherent love of dreaming. Every day I come up with new dreams and I pursue them with confidence. This has carried me thus far, and dreaming will continue to be a key part of my life's work. Ultimately the organization I start one day is founded in my dream of encouraging more kids and communities to dream, people that may have never been encouraged to dream, and then making those dreams come true with skill-development and connection to resources. I will be part of the movement of mindful education that, like New Garden, acknowledges and encourages all aspects of development. Dream big people!
Is there any advice you would give to current NGFS students?
Really soak in what you're exposed to each day. Not many kids and teenagers get to be part of such a smart community, enjoy it and try to notice the cool things the leaders make happen - they do everything because they really love you and want you to be an awesome adult. Share things you learn with your friends at other schools, what you're a part of is not weird, it's incredible and crazy valuable!
Mridula Manoj, Class of 2012
Interview by Maya Sowells, Class of 2017
Where has your life taken you after NGFS?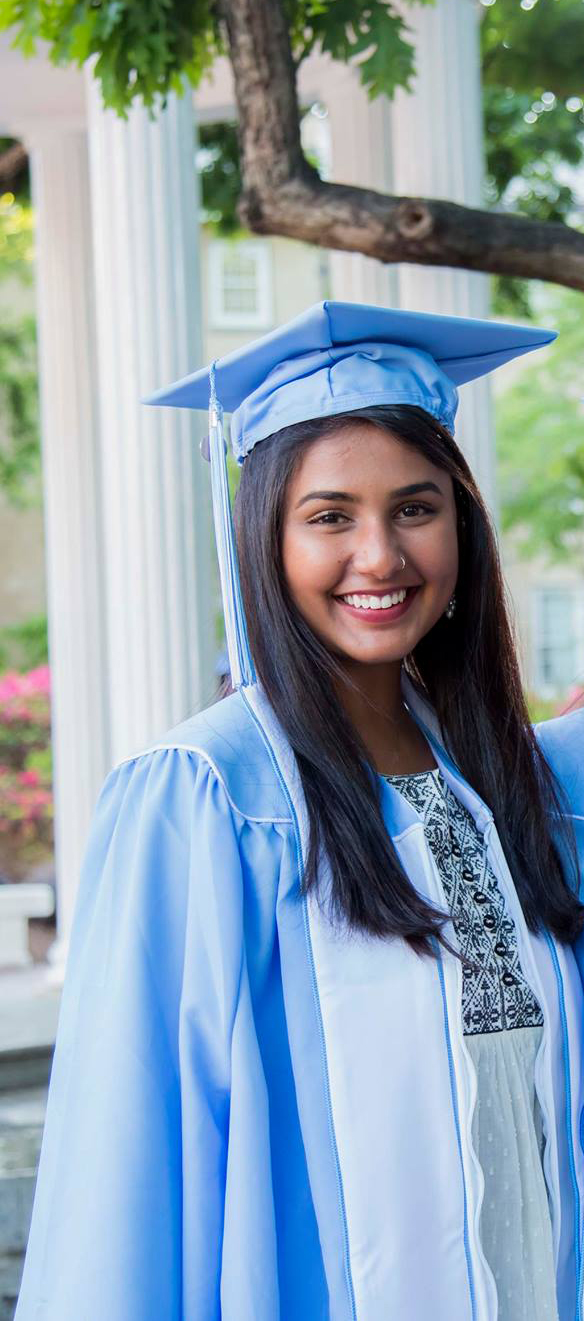 I just graduated from UNC-Chapel Hill this past May. Currently, I'm in the process of finishing prerequisites for dental school and studying for my DAT so that I can apply next year.
How has your NGFS education contributed to your success in life?
Growing up at NGFS, I always loved coming to school. I think that New Garden does a great job of fostering a very positive, supportive learning environment that makes students genuinely curious and interested in school. That love for school has definitely carried me through all these years, and continues to stay with me as I work towards a professional program.
How has a attending a Friends school benefited or shaped the person you are today?
Attending a Friends school was very special because I think we have a very unique curriculum which encourages students to learn and grow both inside and outside of the classroom. For example, growing up at NGFS, I always loved how service was an integral part of the curriculum. I think NGFS instilled in me a love of serving and working with my community at a very young age. This is a big reason that I want to go into a health profession which will allow me to work closely with, and help better the lives of, individuals in my community.
If you had to choose the most memorable moment in your NGFS experience, what would it be?
I always loved spring trips!
What lessons did New Garden instill in you that remain prominent today?
NGFS taught me, at a very young age, to celebrate diversity, which is such an incredibly important lesson. The values of open-mindedness and love and respect towards everyone was always emphasized at school, as well as just being proud of ourselves and our own backgrounds. I'm so grateful to have been part of a community that was centered around these values. I think the Quaker testimonies as a whole are such a positive way of approaching life, and I'll always hold them with me.
Is there any advice you would give to current NGFS students?
Enjoy your time! Also, take time to recognize and appreciate all that your teachers are doing to shape you into the best student you can be!