Students Serve, Reflect, and Discuss to Honor Martin Luther King, Jr. Day
January 24, 2018
"Everybody can be great...because anybody can serve. You don't have to have a college degree to serve. You don't have to make your subject and verb agree to serve. You only need a heart full of grace. A soul generated by love."- Dr. Martin Luther King, Jr.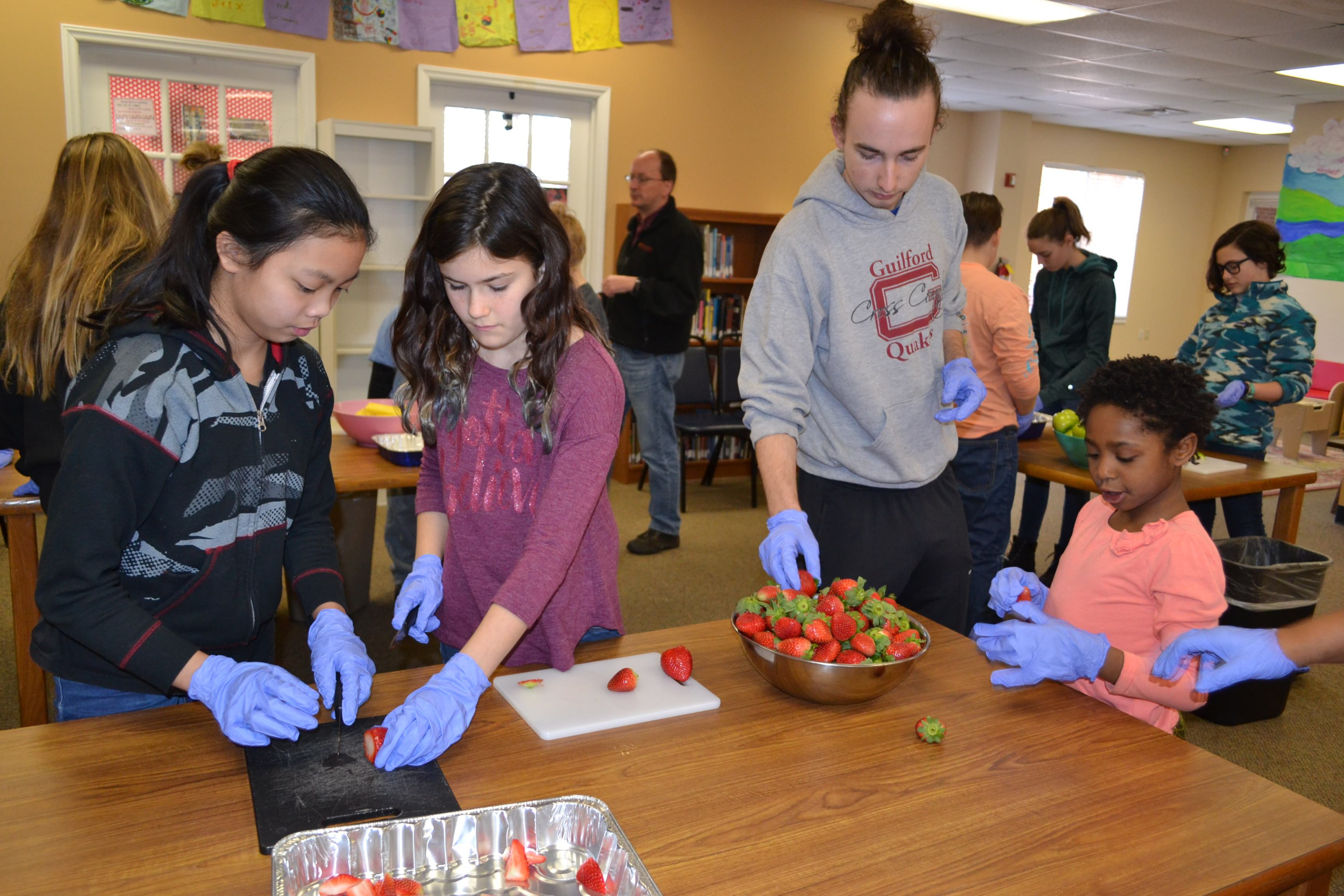 Martin Luther King, Jr. Day has nationally become a day dedicated to serving others. Referred to as "A Day On, Not a Day Off", many people across the country choose to give back to their communities by participating in a day of service.
NGFS recognized the opportunity to have school on a day that is traditionally a day off to solely focus on Dr. King's words, impact, and commitment to helping others. The values of a Quaker school - equality, peace, simplicity, social justice, and service towards others, closely align with Dr. King's legacy.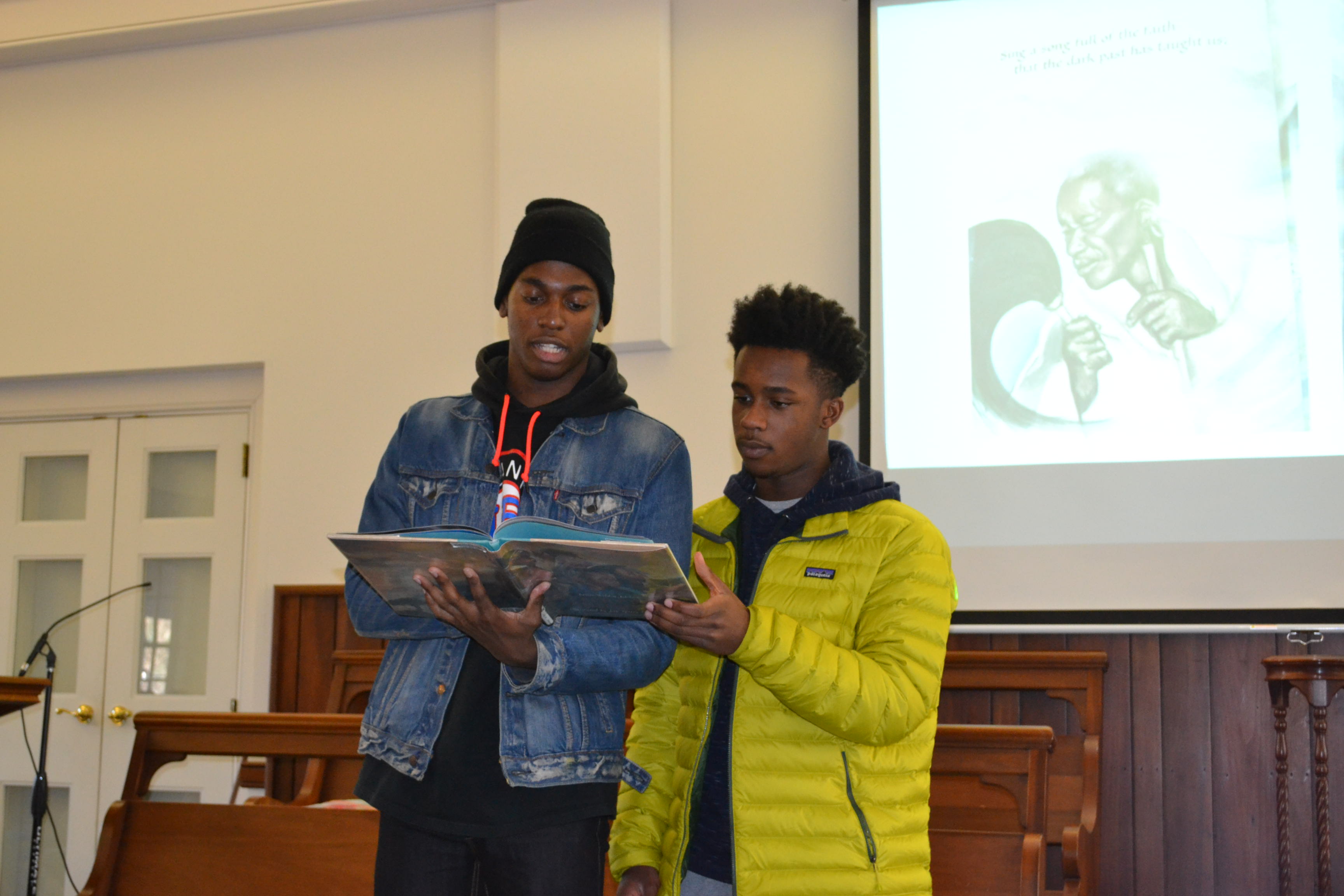 Special programming was designed for each grade level so that all students, grades preschool through12, would have a meaningful experience. The entire school came together in the morning to celebrate Dr. King's legacy through a Quaker service full of stories, songs, and sharing including an inspirational whole group singing of, "What Can One Little Person Do?" Students then broke up by grade level for a variety of activities. Fifth and sixth-grade students watched the infamous "I Have a Dream" speech and learned about Dr. King's role in the civil rights movement. Alexa, a 6th-grade student says, "I was surprised to learn that Dr. King ad-libbed much of the speech. Even the famous words that he repeated, 'I have a dream', were not part of his original written remarks. He added that in on the spot. He was a powerful public speaker."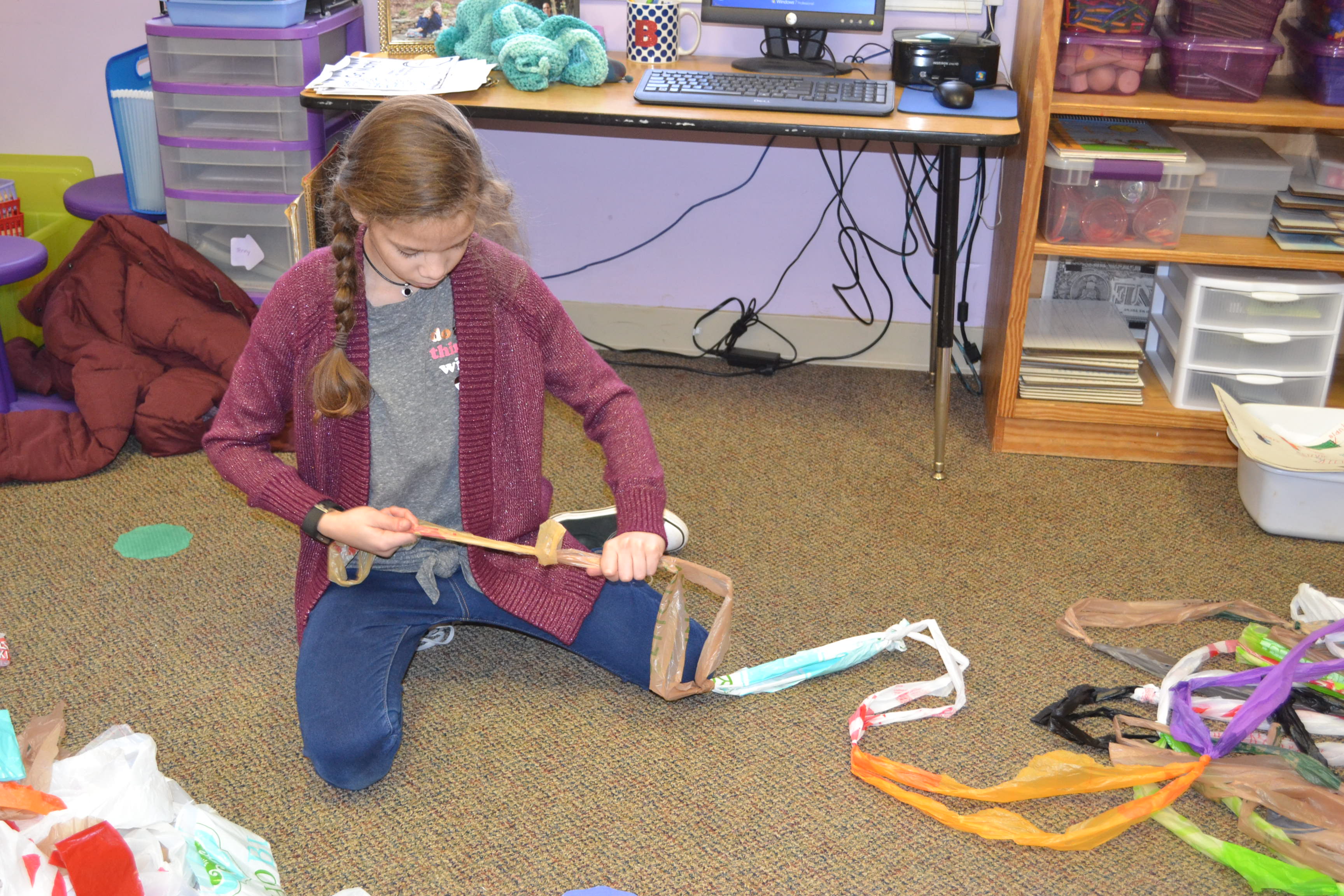 Students then got together in mixed age groups to engage in service projects to benefit the Interactive Resource Center's White Flag warming shelters. These shelters provide those experiencing homeless with a place to stay and eat during times of dangerous cold, which has often been the case these past few weeks in Greensboro. Kindergarteners worked alongside 5th graders to make "Cowboy Stew; 1st and 2nd graders teamed up with older students to construct plarn, "plastic yarn" made from recycled grocery bags, which will then be used to make blankets; 3rd-6th grade students cooked lasagnas; and preschool students whipped up a batch of healthy muffins for the shelters too. Eli, a 6th-grade student, reflects on the experience, "The teachers made it meaningful but still really fun. It was nice to do service for MLK Day in school. I think it inspired kids to do things on their own in the future if it's a day off from school."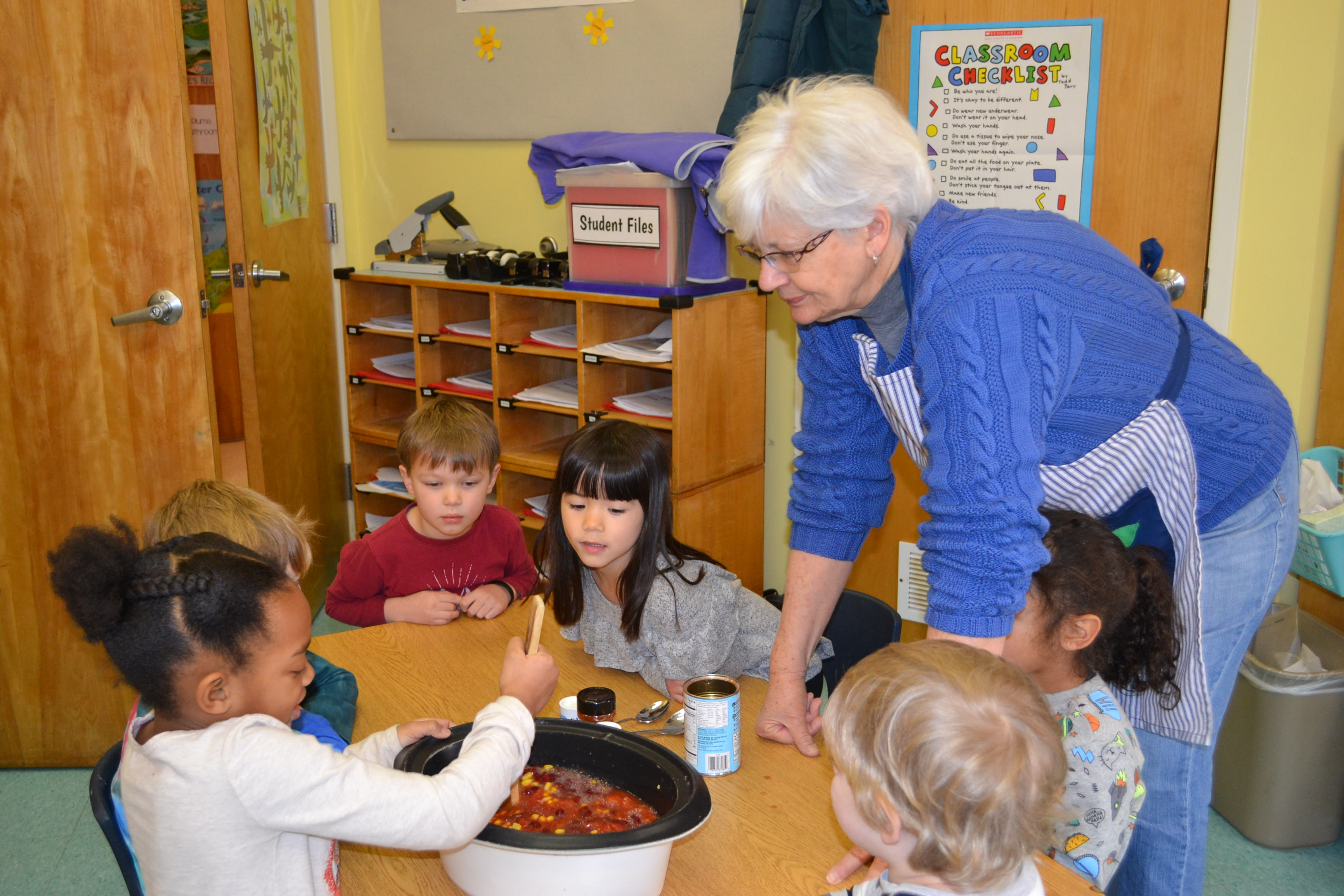 Middle School students, grades 7 and 8, headed downtown to the Martin Luther King Jr. Day Parade and then welcomed to campus guest speaker Logie Meachum, a local storyteller, educator, and musician. The Upper School, grades 9-12, constructed an afternoon for students to discuss and reflect through a series of "Teach-Ins", a concept used at universities during the Vietnam War where informal lectures between students and professors took place. Some of the Teach-Ins students participated in were "The Underground Railroad to Desegregation Efforts: Two Centuries of Quaker Work for Racial Justice"; "Poverty and its Intersections with Race", which featured guest speaker Michelle Kennedy, Executive Director of the Interactive Resource Center; "Martin Luther King Jr. and Malcolm X"; and "Environmental Justice."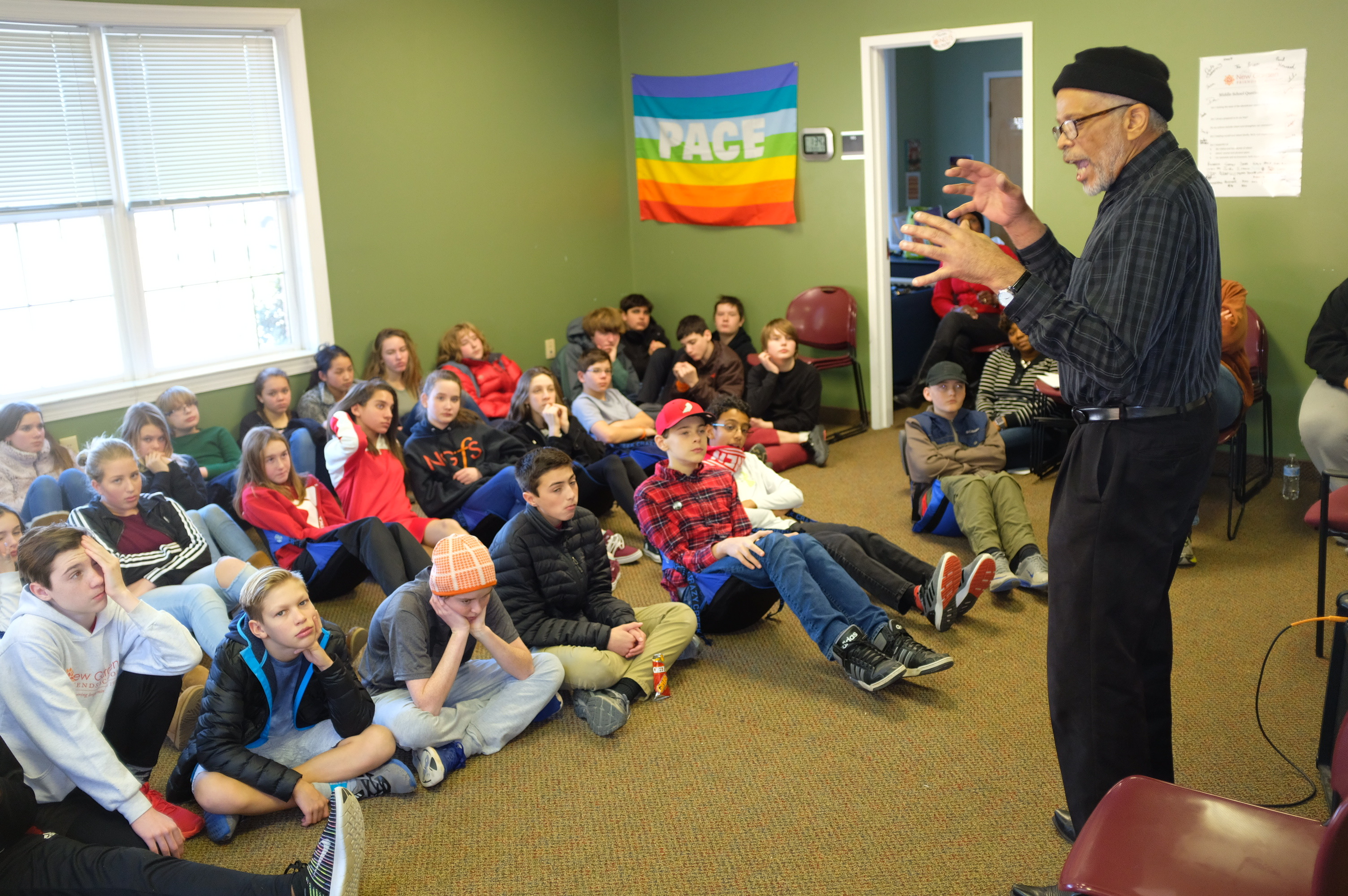 Head of School Kim Freedman remarks, "I am so proud of the day NGFS planned for MLK Day. Spending the day in service and reflection honors Dr. King's legacy and speaks to the difference a Quaker school can make in the community. It also acknowledges the work and sacrifice of the many people who have supported NGFS because they see the impact a Quaker education can have on students, families, and communities."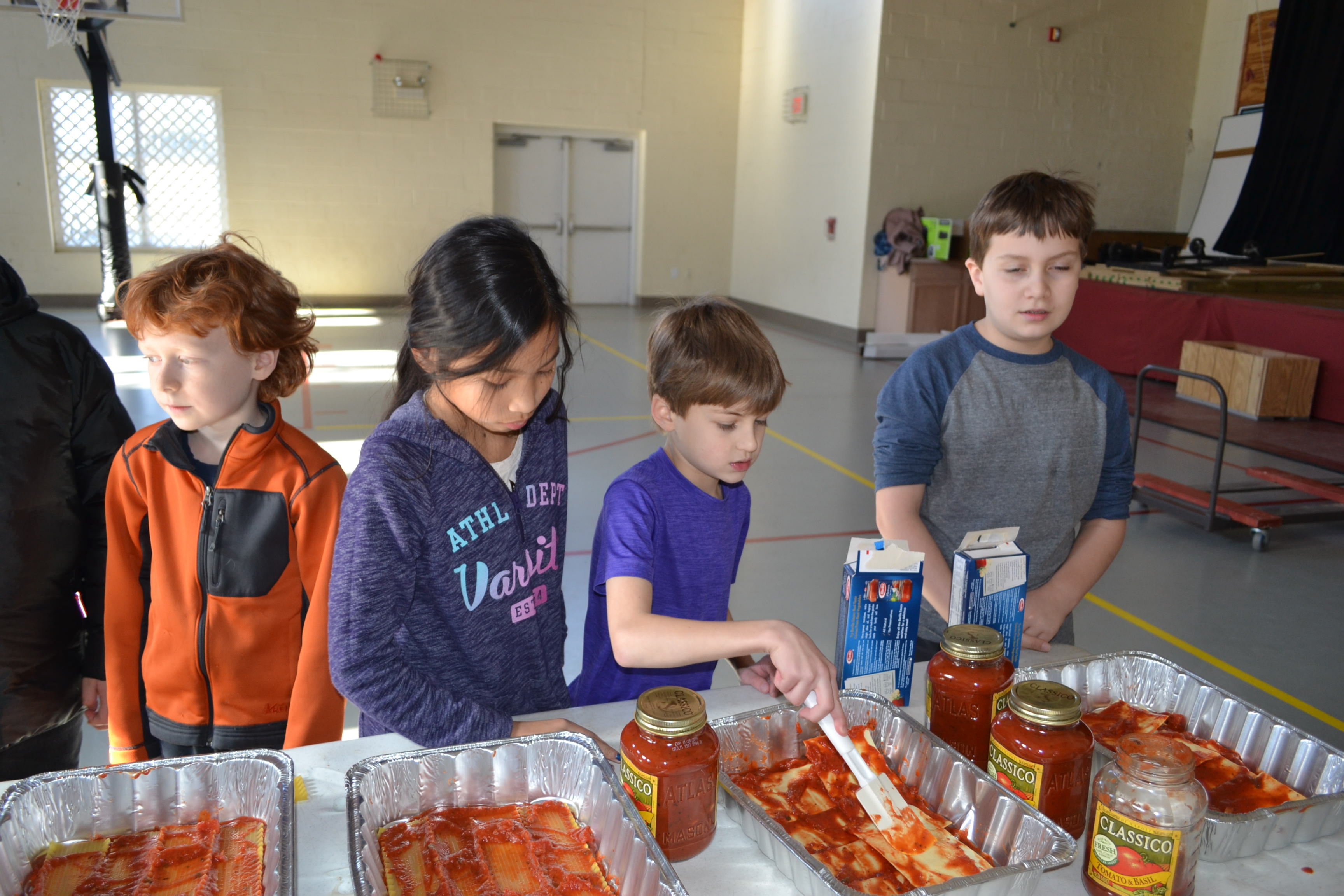 More information about the day by grade level:
A Child's Garden
Children spent the short week trying to remember and say the long name of a very important man. We read stories about differences among people and caring for and respecting one another. Students made healthy muffins to share with the Interactive Resource Center.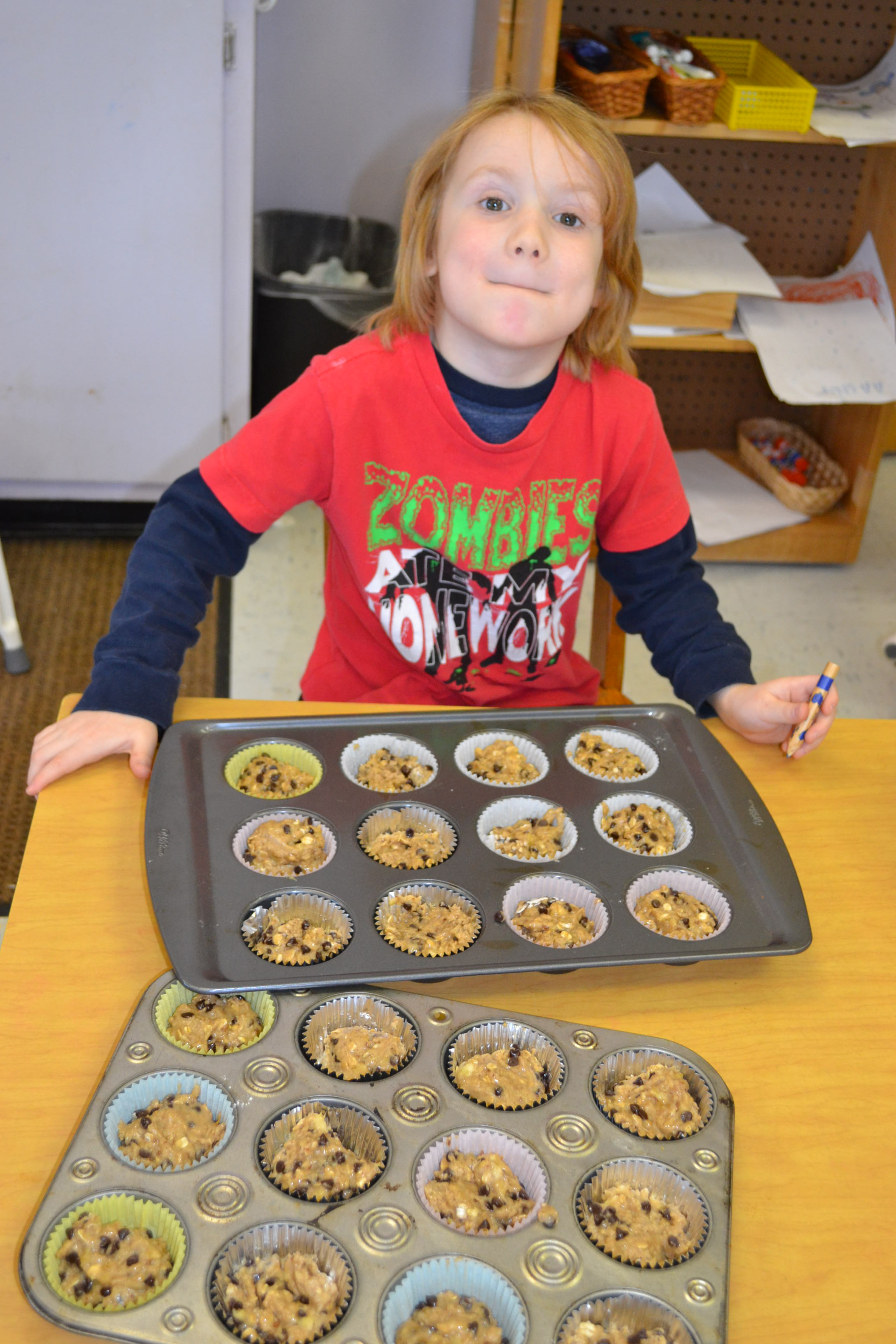 Sunrise
On our MLK Day of Service, Sunrise students enjoyed spending time with galaxy fifth and sixth graders and retired sunrise teacher Pat Lorenc as they prepared two batches of cowboy stew for the guests at the interactive resource center.
Together with our Galaxy friends we also read an illustrated biography of Martin Luther King, Jr. where students learned about the important work MLK did for our country and how he persevered in spite of the many challenges he faced.
Students also enjoyed hearing the book Martin's Big Words and began a writing activity where they wrote and decorated their own big words which are displayed in our classroom.
Rainbow
We had a wonderful celebration of Dr. Martin Luther King, Jr.'s birthday, full of singing, sharing, and service. Rainbow students worked on making plarn to be made into sleeping mats for people experiencing homelessness, made kits for migrant workers, and mixed up a fruit salad for guests and volunteers at the IRC.
Horizon
After Meeting for Worship Horizon students made lasagna and salad for the IRC warming shelter. We also did an MLK Day inference activity, then watched a civil rights Brain Pop video, and ended our day with resources. Students also took part in a workshop led by the Daliana Dance Studio who worked with our students and performed eas part of our Martin Luther King Day celebration.
Galaxy
Students watched an interactive version of the "I Have a Dream" speech and then gave students a chance to explore related links within the website. We participated in different service groups – helping out in Sunrise, making plarn, and cooking lasagna, salad, and fruit salad. We also enjoyed the dance workshop, played civil rights bingo, and made 3D doves.
Middle School
With this being a short week of school due to weather conditions, the highlight of our week was MLK Day. Our school day started with Meeting For Worship together as a school. During this time a couple of our Upper School students read a book by James Weldon Johnson entitled Lift Every Voice and Sing. As usual, we sang our songs during Meeting, but we had some help from a group who provided songs that you would have heard during the time Dr. King would march through the streets, or in the churches where he offered encouragement through his sermons.
After Meeting For Worship, the middle school staff and students headed downtown for the annual MLK day parade. Interacting with the greater Greensboro community was great. Once we arrived back to school, Logie Meachum came as our guest speaker after lunch. He didn't need an introduction because Logie came in singing his blues and a story to tell. Logie provided our students with the rich history that they walk through daily in our community. He also challenged them to set high expectations given the education that has been provided to them through the roots that Quakers have set in history right here in Greensboro. Students ended their day with watching a video of King's, "I Have A Dream speech," then creating their own personal "I Have A Dream Speech" through an activity provided by MS teachers. We had a fun-filled day and look forward to following through on the challenge offered by our friend Logie.
Upper School
On Monday, we honored the legacy of Dr. Martin Luther King with a full day of special programming. Our day started with a called Whole School Meeting for Worship. On this special day, guest singers engaged us with songs that may have been sung in Dr. King's church. Upper School students welcomed a couple of guest speakers. Max Carter led a workshop called "Underground Railroad to Desegregation Efforts: Two Centuries of Quaker Work for Racial Justice" and Michelle Kennedy led "MLK, Poverty and its Intersections with Race". Upper School teachers led workshops that explored topics of Vietnam, Malcolm X, and environmental justice. A special thank you to our Diversity Committee for planning the Upper School celebration!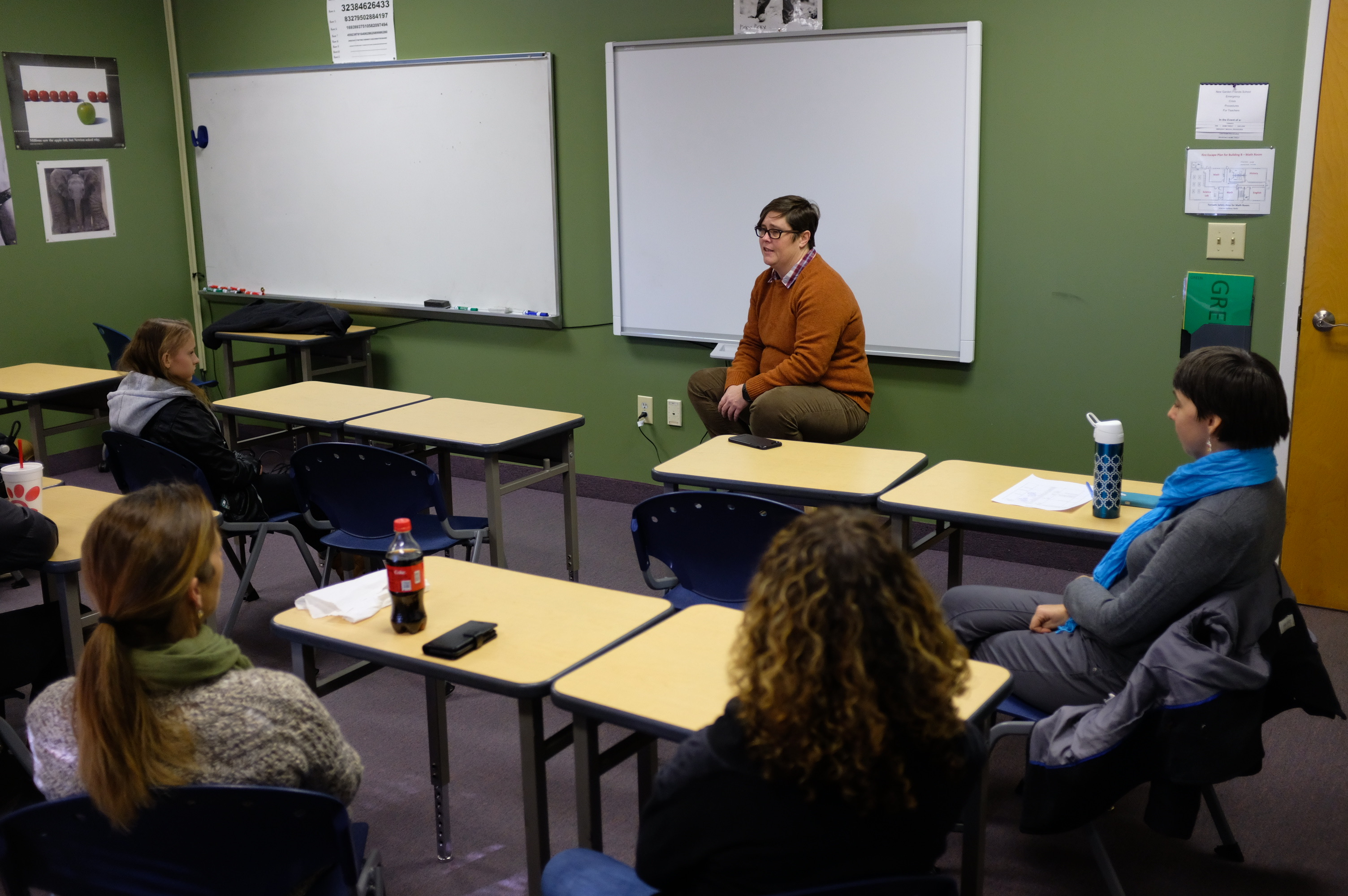 Derek Brandon, a senior, reflects on the day, "I thought that NGFS did a great job on MLK day. Instead of just having a day off, we took the time to observe not only Dr. King, but the broad topic of the life of African American people in the United States. Watching 13th helped give insight into some of the obstacles that black people face on a daily basis, and it made me feel good to see that my peers at NGFS took the matter seriously and really cared about what was going on. Between watching 13th and participating in the workshops about different aspects of racism, we were able to spark a lot of positive conversations that I think will ultimately lead to people wanting to make changes for the better. The entire day made me feel like there was a positive impact on everybody and left me feeling hopeful that our school is full of people that are engaged and looking to create equality for everybody, just like Martin Luther King, Jr."