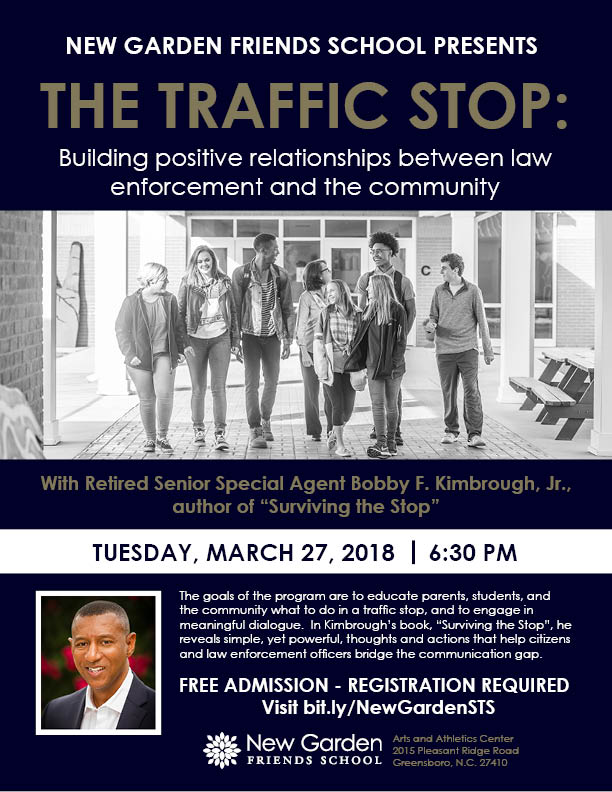 The Traffic Stop
The goals of the program are to educate parents, students, and the community what to do in a traffic stop, and to engage in meaningful dialogue. In Kimbrough's book, "Surviving the Stop", he reveals simple, yet powerful, thoughts and actions that help citizens and law enforcement officers bridge the communication gap. Free Admission, donations welcome.
Tuesday, March 27, 6:30 p.m.
Arts and Athletics Center
2015 Pleasant Ridge Road
More Information
The Traffic Stop: Building positive relationships between law enforcement and the community.
The program will be led by Retired special agent Bobby Kimbrough, Jr., the author of "Surviving the Stop". Bobby has used his own work and life experiences to now serve as a security expert/analyst and a motivational speaker. He is often called upon to speak at conferences, seminars, schools, churches and workplaces to motivate, encourage, and inspire others.
This event will focus on changing the atmosphere and outcome around a traffic stop. Kimbrough's book, "Surviving the Stop", was written to assist motorists with successfully managing interactions with law enforcement officers when they are stopped. His ultimate goal is to prevent the tragedies that we have seen in our nation over the past few years and bridge the communication gap between citizens and police officers.
There will be a separate program during the school day for students of NGFS. The evening program is for parents and the greater Greensboro community.
Who is presenting this program?
Bobby F. Kimbrough, Jr. is an author, speaker, and expert consultant in leadership, security concepts, and safety measures. As a Senior Special Agent with the U.S. Department of Justice, he provided safety and security detail in the aftermath of the 1996 Olympic bombings as well as the September 11 terrorist attacks. Now that he is retired, Bobby uses his experience and expertise as a security expert/analyst in an effort to help make the world a safer place. Learn more about Bobby Kimbrough.