Learning Beyond the Classroom
At NGFS, we take learning outside the classroom. From our campus garden to spelunking the Lost Sea cave in Tennessee; our students are aware of their obligations as responsible local and global citizens.
From preschool -12th grade, NGFS students are challenged to get involved and get outside! Beginning in the third grade, our classes take fall and spring trips to enhance their classroom work and support the development of independence, adaptability, compassion, resiliency, and social responsibility. Studying ecosystems, students may conduct valuable in-class labs. But a trip to the Okefenokee Swamp and canoeing through the wetlands instills a new respect for biologically diverse systems.
We may travel down the road with our lunch or on planes with our passports, but our reasons for going are often the same. There are lessons to be learned and people to meet, there are comfort zones that need a bit of stretching, and there is work to do.
When we allow our students to engage with the world, we let them see that their worldview is valuable, but it is one of many.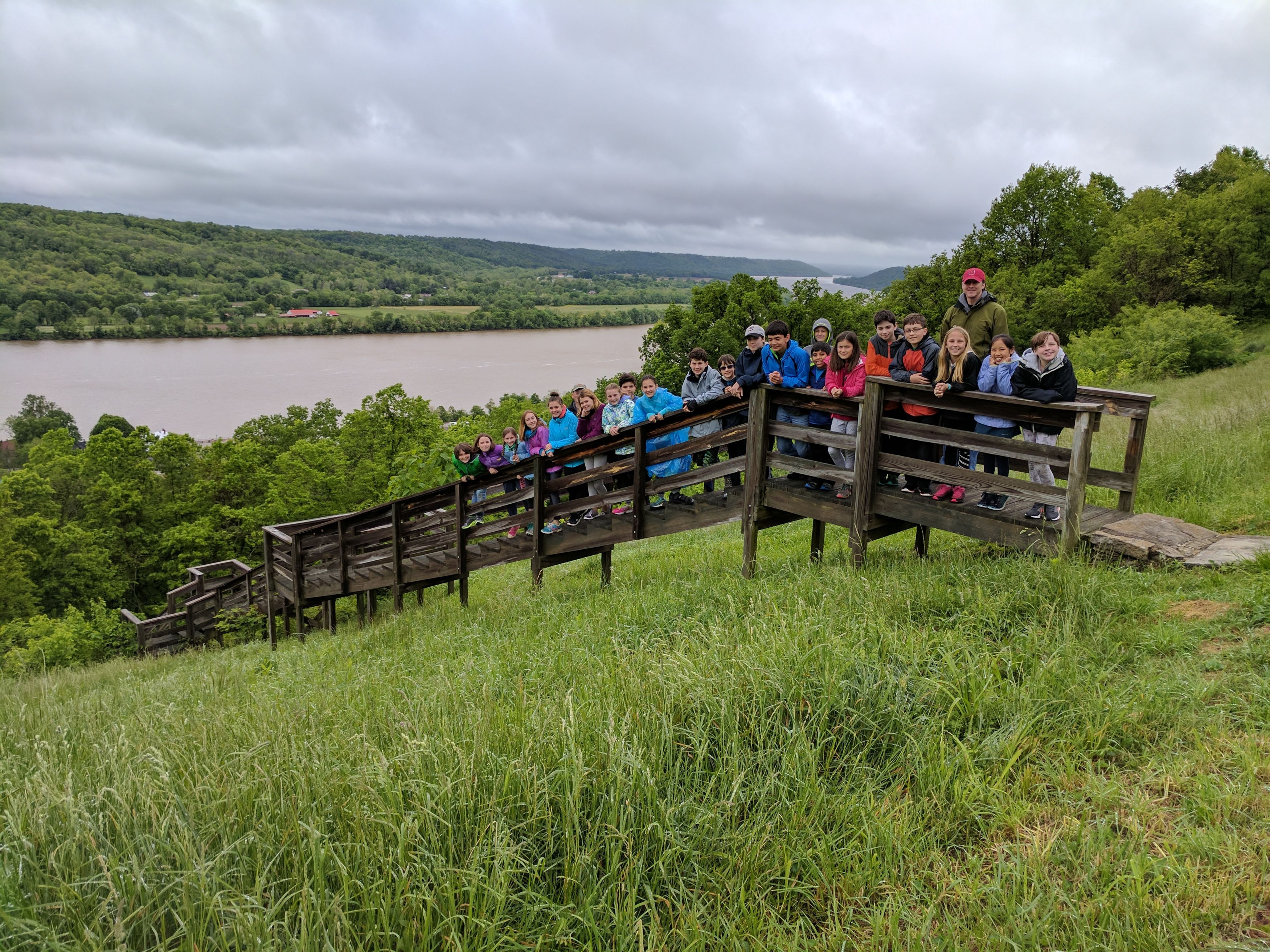 Class Trips
Class trips at NGFS are no ordinary field trip. Beginning in third grade, students take fall and spring overnight trips that immerse them in a world outside their comfort zone. Children are challenged to apply life skills in a variety of situations: learning how to set up a tent, camping in the woods, rock climbing, hiking, comforting a homesick classmate, navigating a ropes course, and most of all how to interact with their teachers and peers in a new and challenging environment. It is through these experiences that students become aware of their obligations as responsible local and global citizens.
From tubing in the Ichetucknee Spring to civil rights history brought to life in Birmingham; from viewing a Shakespearean play to spending the night in the Tennessee Aquarium; from expanding on the study of elections in Washington, D.C to standing at the Ohio river slaves had to cross to freedom, the trips are as varied as the curriculum they enhance. It is through this experiential learning that students are able to feel, touch, and have real first-hand connections with what they've heard about and read.
Students go on class trips each year until graduation and hail these trips as hallmarks of their NGFS experience. Alumni remark that they were "life-changing", while a current 5th grader will tell you, "It's the most fun you will ever have." New Garden's trip program is truly one of a kind and is a unique differentiator.
Appreciation for the Environment
Outdoor education has been part of the New Garden Friends School program since its founding in 1971. Over the years the School has continued to emphasize children's relationship with the environment, developing an appreciation for it as well as the discovery of it.
Stewardship:
We seek to be good stewards of the environment by using the resources of the Earth responsibly. We strive to educate ourselves about the local and global impacts of personal and institutional choices in order to encourage environmental best practices. Some of the ways we do this include:
Composting in all classrooms on the Guilford Campus
Campus recycling of paper, plastic, and glass
Styrofoam is rinsed, collected, and recycled
Plastic bag collection for proper recycling
Water barrels on campus
The art department collects used markers to be sent in to be recycled
Reusable dishes for school events
On-going efforts to be good stewards through reducing our environmental footprint, reusing current resources, and recycling what we can.
Head of Lower School Carolyn Vallejos says, "It is valuable for children to have opportunities to spend time in nature, from 3-year-olds hiking in the woods to 6th graders setting up tents and camping for eight days. It is wonderful to see the joy on a child's face as they stand in a meadow, collecting leaves as they fall from a tree, or as they discover a frog hidden behind a rock at the edge of the woods."