Welcome to the 2019-20 School Year!

Calendars
Major Dates Calendar for 19-20
Extended Care Calendar for 19-20
Extended Care Before Aug. 21
Extended Care is available for NGFS families, preschool-8th grade students, Aug. 12-16, and the following Monday and Tuesday, Aug. 19 and 20.
HOURS: 7:30 a.m. - 6 p.m. on the Guilford Campus
COST: Rate of $7.00/hour
To sign up your child(ren), send an email to Jeff@ngfs.org. Please indicate the days your child(ren) will attend. It is necessary to sign up in advance for this week so that we can ensure adequate staffing. We cannot offer drop-in childcare this week, so please be sure to sign up in advance. If you have any questions, please contact Jeff Bills.
Beginning of the Year Events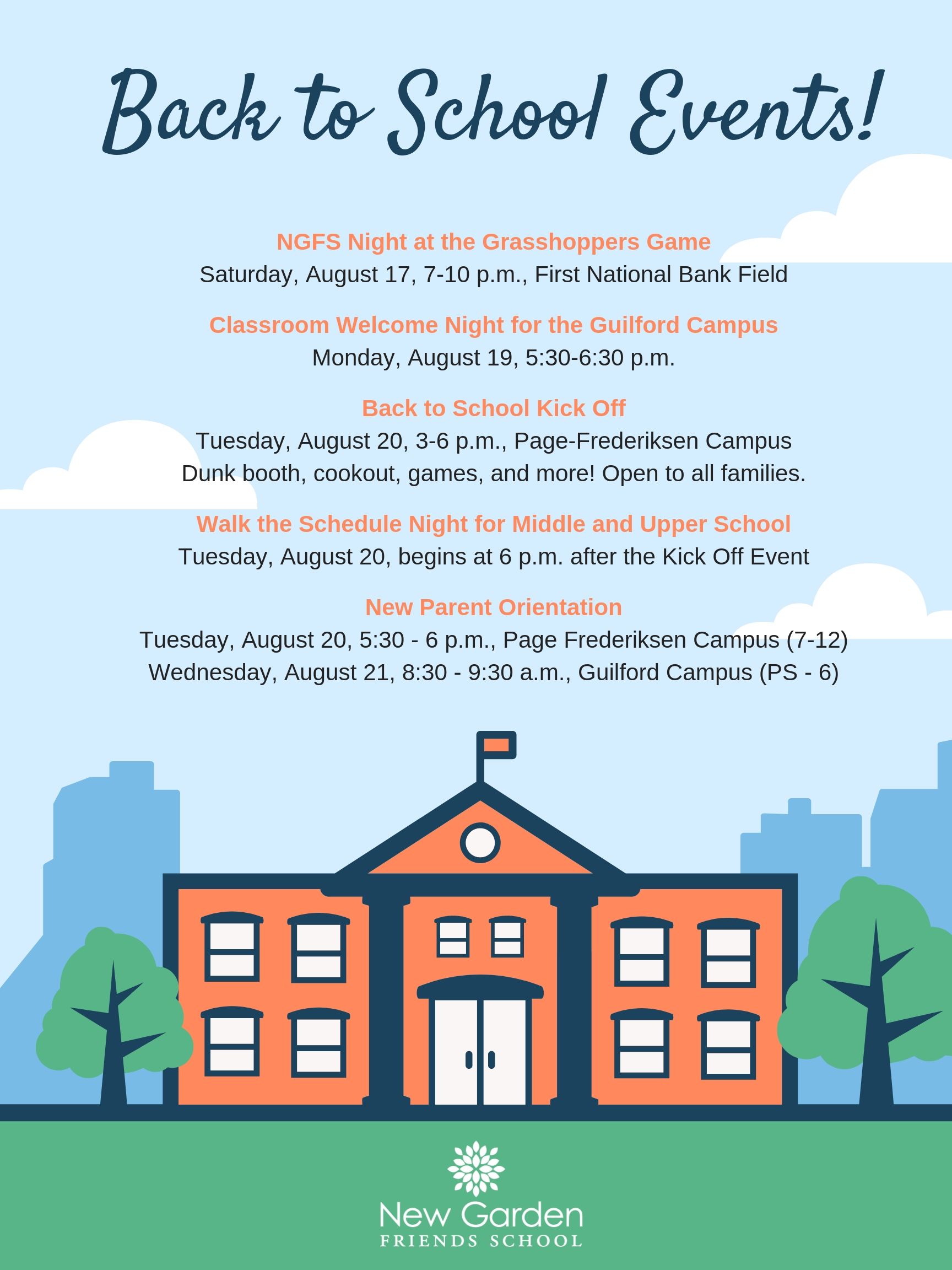 Athletics
All varsity sports are open to students in grades 7-12. Each athlete interested in participating in a fall sport must have an up-to- date sports physical on file with the athletic department. Please use this form. Parents and athletes need to complete this concussion form. Please contact athletics@ngfs.org with any questions.
School Supplies
Division Directors have emailed the supply lists for the 2019-20 school year. If you have not received it, please contact your Division Director.
Carolyn Vallejos, Head of Lower School, cvallejos@ngfs.org
Tanisha Jones, Head of Middle School, tjones@ngfs.org
Lisa Bates-Glass, Head of Upper School, lbatesglass@ngfs.org
Hot Lunch
NGFS partners with My Hot Lunchbox. Find out how to set up an account and order here.
Shuttle
Shuttle service is provided to students between the Guilford Campus and Page-Frederiksen Campus. Page-Frederiksen Campus students planning to ride the shuttle need to sign up at the front desk of their campus in the morning for the afternoon shuttle.
The shuttle leaves Guilford campus at 7:45 a.m. arriving at the Page-Frederiksen campus about 7:55 a.m. *Students cannot be dropped off before 7:30 a.m.
The shuttle leaves the Page-Frederiksen campus at 8:00 a.m. for the Guilford Campus, arriving by 8:10 a.m.
In the afternoon the shuttle leaves the Page-Frederiksen Campus at 3:40 p.m. arriving at the Guilford Campus approximately 10 minutes later. Parents or guardians must arrange for someone to be present to pick up the students promptly upon the shuttle's arrival at the Guilford Campus. For safety reasons, students may not wait unattended at the Guilford Campus.
Extended Care
Extended Care is offered for Preschool through 8th-grade students for an additional fee. Care is offered on the Guilford Campus for Preschool through 6th-grade students starting at 7:30 a.m. After school care on Guilford Campus runs until 6 p.m. on each school day and on most teacher workdays. Afternoon only Extended Care is available for Middle School students on the Guilford Campus from 3:30-6 p.m.; students will be bused from the PFC and must sign up ahead of time at the front desk. An Extended Care calendar is available here.
Children are accepted in Extended Care on a part-time, full-time, and drop in basis.
The rate is $7.00/hour. The fee for late pick up after 6 p.m. is $1.00 per minute.
Please contact Jeff Bills, jeff@ngfs.org to sign up.